Hey there guys!
Happy Wednesday to everyone! I come from a family of readers. We've always had a lot of books at home and still do, though my mum did make us give away a big chuck of them a couple of years ago. Anyone who knows me, knows that I read a lot. I read a lot of nonfiction at the moment. I think last year I only read one fiction book the entire year which is kind of crazy, definitely want to read more this year!
Something I've had numerous people ask me is how I have time to read. To me life is about making time for the things you want to do. I genuinely want to read, I enjoy it, it makes me happy. I read a lot when traveling. If you use the Toronto subway you'll know it takes a while to get places (I'm very grateful to live in a city that has a subway system though, so not going to complain too much). I love waking up early on a Saturday or Sunday morning and reading for an hour or two. I usually wake up pretty early, and it's winter, it's dark and cold. I don't really feel like getting out of bed but I'm awake. Reading on the weekend is my version of sleeping in. I'm always early to classes, so that is also a great time to read. Basically what I'm saying is that we always have the choice to make time for the things that are important to us. I don't understand video games, I don't have anything against it, but I can't play to save my life! So I don't make time for that. Reading is something I enjoy, so I choose to do it.
Anyways, I thought I'd make a list of 4 books that are my favorite, or that I've found really useful or informative recently. This list is always changing so I'd love to make more in the future if you guys are interested!
I read this book for the first time 2 years ago and I fell in love. I actually read it again this December. It's a fantastic book that talks about God in a really relatable and accessible way. It's hilarious, witty, and heartwarming!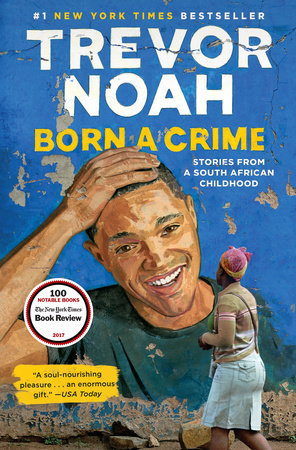 Book 2: TREVOR NOAH BORN A CRIME
So, a little fact about me, I am slightly obsessed with Trevor Noah. I absolutely adore all his work and this book did not disappoint. It is truly funny and touching. The ending is beautiful, soul-stirring and inspiring. Also, in the first couple of chapters, he tells a ridiculously comical story that had me in tears, you do not want to miss that!
Book 3: LIGHT IS THE NEW BLACK
I definitely don't think this book is for everyone but it is something I enjoyed. It's very poetic and uplifting and I found at a time when I needed to read it. It's also a book I go back to from time to time. I would recommend it and say, read it with an open mind!

How to stop worrying about what you should do so you can finish what you need to do and start doing what you want to do, by Sarah Knight
Wow, that title is a mouth full! In all honesty I haven't finished reading this book. I was reading it over winter break and I left it behind when I was traveling back to Toronto. Still the parts I did read have helped me so much that I feel comfortable recommending it. One of the main ideas from this book that I have implemented into my daily life is separating my daily to do lists into the things I have to do and the things I want to do. This has made so much of difference to me. It's made my to-do lists so much more attainable. It's helped me realize that there is enough time for me to do the things I have to do in a day, if I focus.

So here is my list for now! Let me know if you guys end up liking any of them. Also if you have book recommendations please do send them my way! :)
Happy reading,
Vanessa